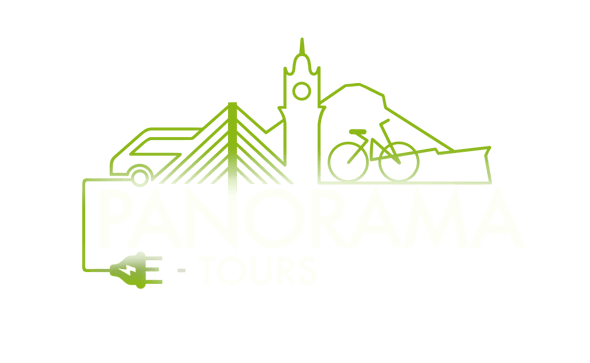 Loch Ness and the Highlands
Available in:
English, Italian, Spanish
Loch Ness, perhaps the most iconic destination in Scotland; full of mystery, legends, and wonder. On this two-day tour, we will explore the area around the loch and uncover its secrets, besides taking a cruise trip along its waters.
Over the two days you will also get all the best that the North of Scotland has to offer, including the most breath-taking views and iconic sites such as Glen Coe, the Glenfinnan Viaduct (Harry Potter), Rannoch Moor, Inverness, Pitlochry and much more. All while travelling in an eco-friendly way.
Experience the beauty of Scotland's Highlands on this two-day tour that will take you to some of the most stunning and captivating places in the country.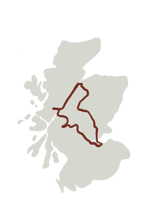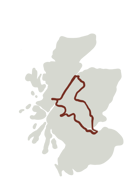 Viajando desde Edimburgo, accederemos a primera hora de la mañana al Parque Nacional del Lago Lomond y del Trossachs, donde haremos una primera parada para desayunar en Killin, donde podréis disfrutar de las preciosas Cataratas de Dochart.
Nuestro viaje continúa a través de las escarpadas montañas de los Trossachs, deteniéndose para tomar fotos en algunos de los miradores más impresionantes, como los del lago Tulla y del icónico castillo de Kilchurn. Desde allí, continuará hasta Rannoch Moor, un vasto y desierto paisaje lleno de brezos, ciénagas y lagos que lo dejarán asombrado. Seguiremos el mismo camino por el que James Bond condujo su icónico DB5 en Skyfall (2012), y el páramo nos llevará directamente al valle más famoso de Escocia: Glencoe. Una cañada impresionantemente hermosa con una rica historia, llena de impresionantes vistas. Allí haremos una parada para admirar la belleza de las icónicas Tres Hermanas, fondo de innumerables películas y programas de televisión, incluidos Braveheart, Highlander y Outlander.
Después de una relajante parada para almorzar en Fort William, nos dirigiremos al icónico viaducto de Glenfinnan, un viaducto ferroviario que se hizo famoso por las películas de Harry Potter, donde tendrá tiempo para realizar una breve caminata y disfrutar de las impresionantes vistas. A partir de ahí, nuestro viaje continuará hacia el norte, parando en el Commando Memorial, el monumento dedicado a los famosos Commandos. De allí, las vistas panorámicas del pico más alto de Gran Bretaña, Ben Nevis, nos deslizarán dentro el Great Glen, que nos conducirá al famoso Lago Ness. Remontando el icónico lago en toda su largueza llegaremos a Inverness, donde pasaremos la noche. Aquí disfrutará de una tarde libre con la oportunidad de explorar la capital de las Tierras Altas y probar la cocina local.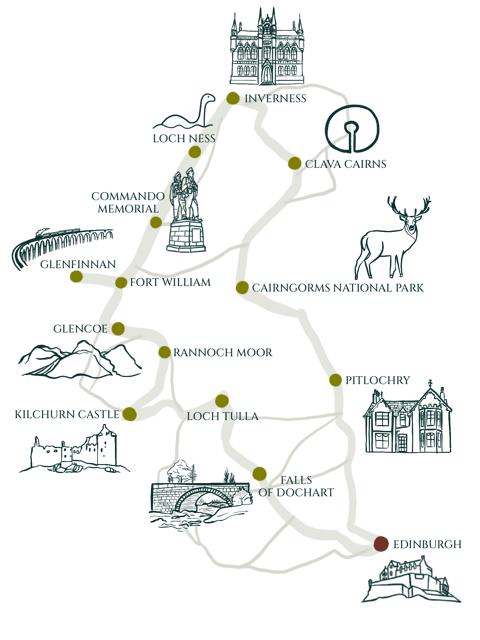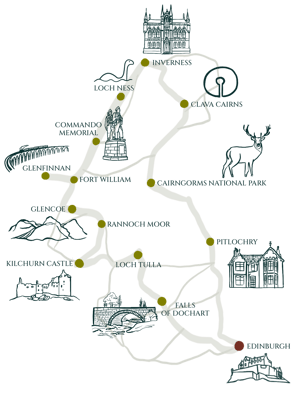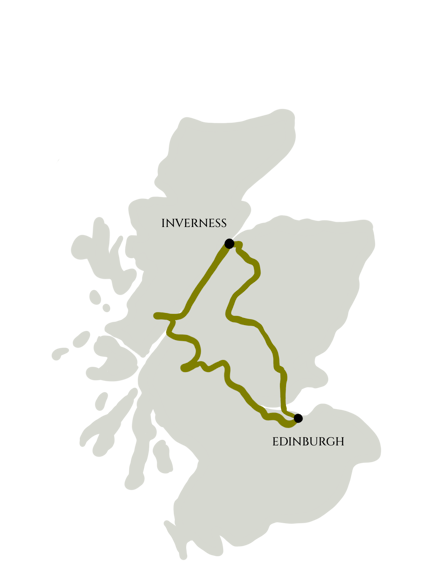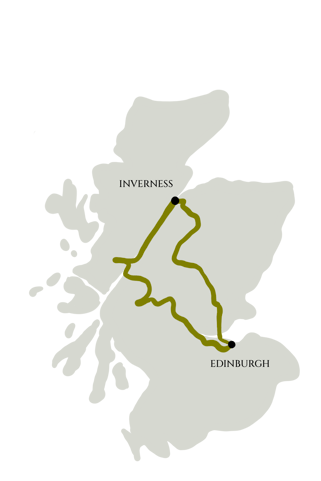 The following morning you will be able to take a cruise down the loch to admire the stunning views and look out for the elusive Nessie. This mysterious lake is home to a wealth of awe-inspiring scenery, from the ruins of Urquhart Castle to the serene tranquillity of its lush forests and majestic mountains. The lake itself is over 20 miles long and over 700 feet deep, making it the second-deepest loch in all of Scotland. Its dark waters are often shrouded in mystery and legend, as many people claim to have seen the Loch Ness Monster lurking beneath the surface.
After the cruise, our guide will lead you on an exploration of 4000 years old archaeological site - Clava Cairns. This landscape has been an important place for ritual and burial activities since at least the Bronze Age. Crossing the Cairngorms National Park the tour will end at Pitlochry, a picturesque Victorian town with a unique atmosphere, where you can enjoy a dram of the local whisky and some traditional Scottish food.
This two-day tour around the Scottish Highlands will give you all the best the Highlands of Scotland, while travelling in an eco-friendly way.